The hair transplant procedure that can fill in and bring new shape to your eyebrows.
Lack of eyebrow hair growth or loss of hair is generally caused by over plucking, aging or genetics. An eyebrow hair transplant can help fill in the gaps and create the ideal shape to frame your eyes and enhance your facial features.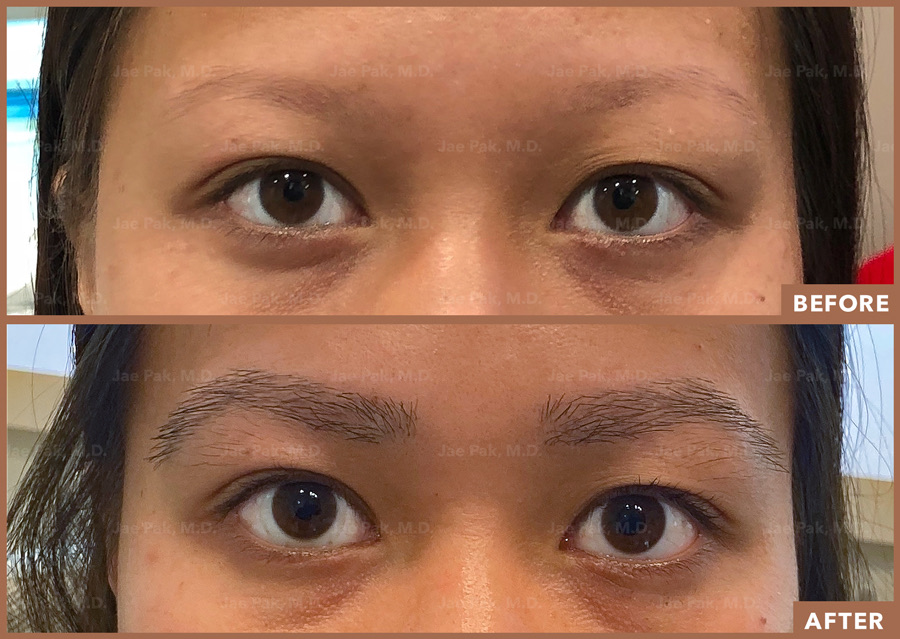 During an FUE Hair Transplant procedure, the follicular units are harvested (removed) from the back of your scalp by your surgeon, using a surgical tool the diameter of .7 to .9 mm. The cylindrical surgical instrument is selected based on the size of the hair follicles.
Are eyebrow hair transplants worth it?
Microblading and use of powders and other products to fill in your brows will never have the natural and permanent look of an eyebrow hair transplant. To create the look that best fits your face, you need a surgeon who has not only the technical skills, but also the artistic eye. Jae Pak, M.D. has been performing hair transplants for 15 years and eyebrows are just one of his specialties.
Dr. Pak transforms the look of our patients everyday, and helps build their confidence. The eyebrows are a prominent feature on a person's face, and impact not only their appearance but also their health, by protecting the eyes from the sun, water and particles on the face and in the air.
Do eyebrow transplants look natural?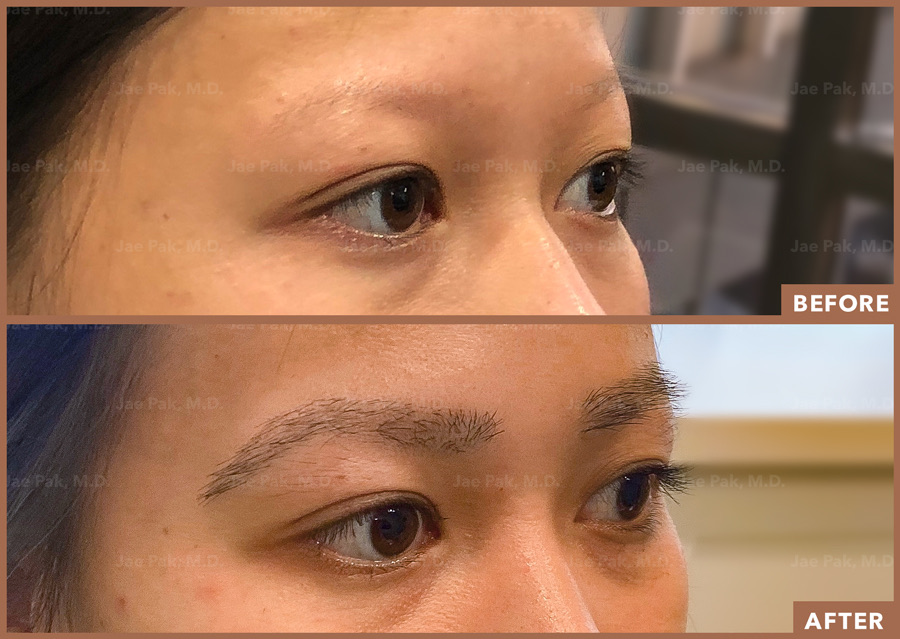 Yes, eyebrow transplants can look completely natural, but this is dependent on the skill and experience of the surgeon. Eyebrow transplants involve special skills and techniques to ensure the hairs are implanted in the proper direction and density, to create a shape that compliments your facial features.
A surgeon must have an artistic eye as well as the experience and skills to create a natural and aesthetically pleasing eyebrow to enhance your features and bone structure.
Can I create the desired shape I want with an eyebrow transplant?
Absolutely, but to do so, avoid choosing a doctor who uses stencils or the same measurements for all their patients.
One size does not fit all. Facial features and bone structure must be taken into consideration when choosing the width, length and density of the eyebrows. Dr. Pak is able to design your eyebrows with you, as he is an artist as well as an M.D.He will work with you and draw an outline for you of the shape he will create. You will work together to ensure your goals are met to enhance your eyebrows.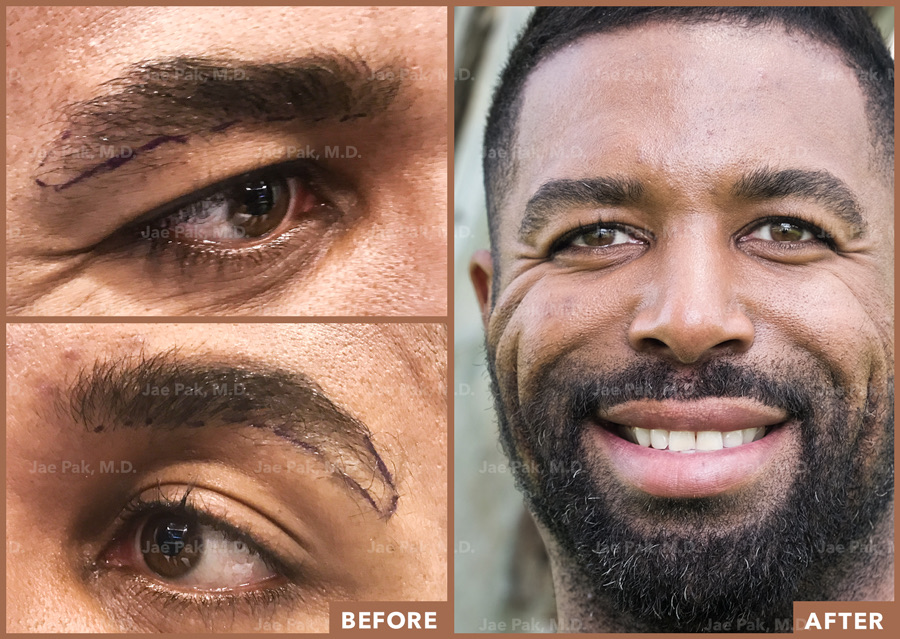 How does an eyebrow transplant work?
Individual hairs will artistically be implanted to ensure they are placed in the proper direction to create your desired shape and fullness.The hairs are usually taken/harvested from the back of the scalp and examined and prepared under a stereomicroscope. Once the hair follicles are ready for implantation, they are inserted in sites the surgeon has carefully created to ensure a natural looking brow.
Is an eyebrow transplant safe?
Yes, because your own hair follicles are used, the implanted hair reacts extremely well to being implanted in the face. The key to a great outcome is finding the right doctor. Jae Pak, M.D. works with patients daily to restore eyebrows, beards, and hairlines with artistically natural looking results!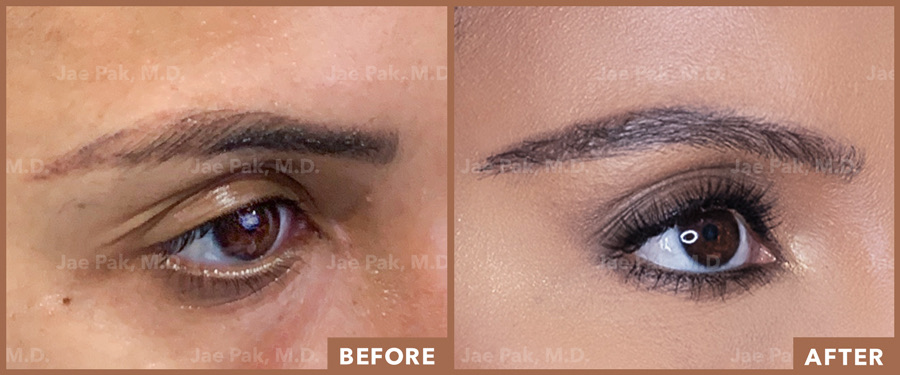 How many hairs are needed for an eyebrow transplant?
Everyone is different as some people are just filling in patchy areas while others are trying to totally recreate the shape of their eyebrows. The number of hairs needed can range from 100-500 hairs per eyebrow. Your surgeon will be able to access the approximate amount needed before your procedure based on your goals and desired look you are trying to achieve.