A Typical Day for Our Patients
at Jae Pak MD Medical
What to expect the day of your procedure from Start to Finish.
Read on to learn more about what to expect the day of your Hair Transplant or Scalp MicroPigmentation Procedure with Dr. Pak.
Before the Procedure
Your morning will begin by meeting with the doctor and the assisting medical technicians for your procedure. Dr. Pak will take time to review your goals and draw an outline of where the hair grafts or SMP will be added.
Dr. Pak will work with you to design your ideal hairline,
eyebrows, beard, mustache, or goatee.
*Many of our patients come from throughout the US and around the world. They meet Dr. Pak for the first time the day of their procedure.
Dr. Pak will work with you to set goals and expectations for your procedure, as seen in the video above.
Your Procedure Begins
Once you and the doctor feel comfortable with the goals and expectations you have jointly established, Dr. Pak will administer a local anesthetic and your procedure will begin.
Local Anesthesia is used, so you will be awake and able to watch movies, tv or listen to music in our relaxing, spa-like environment. Many patients are so relaxed they sleep much of the day.
Who performs the surgery?
Jae Pak, M.D. performs your surgery. Dr. Pak is board certified in Emergency Medicine, a degreed Aerospace and Mechanical Engineer, as well as an accomplished artist.
For an FUT(STRIP) hair transplant, Dr. Pak will harvest/remove the grafts and use sutures or staples to close the linear incision.
For an FUE hair transplant, Dr. Pak will individually harvest/remove every single hair follicle.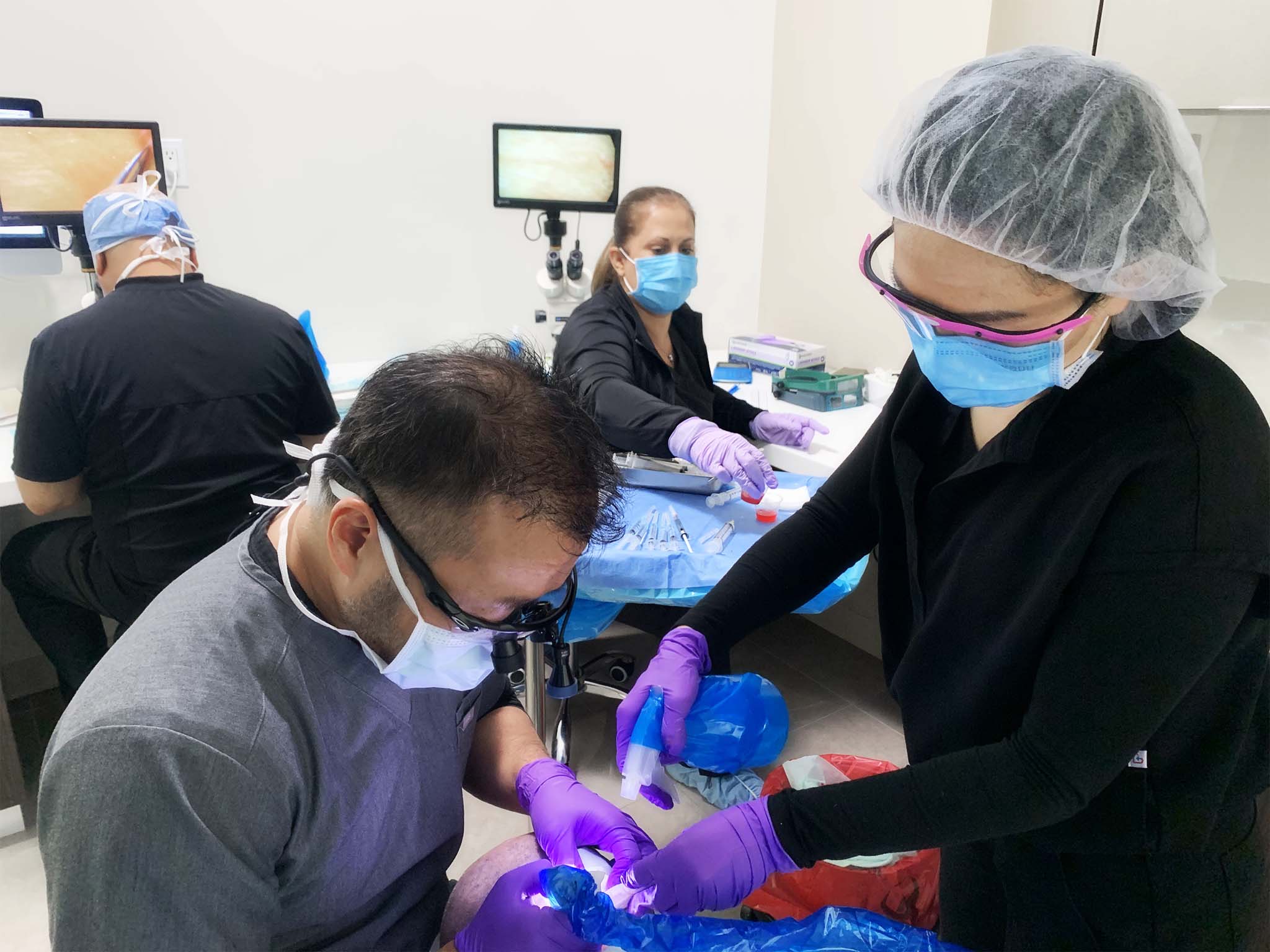 The staff then takes the harvested grafts (both FUT and FUE) and quality controls every single follicle under a video microscope and counts each one for implantation.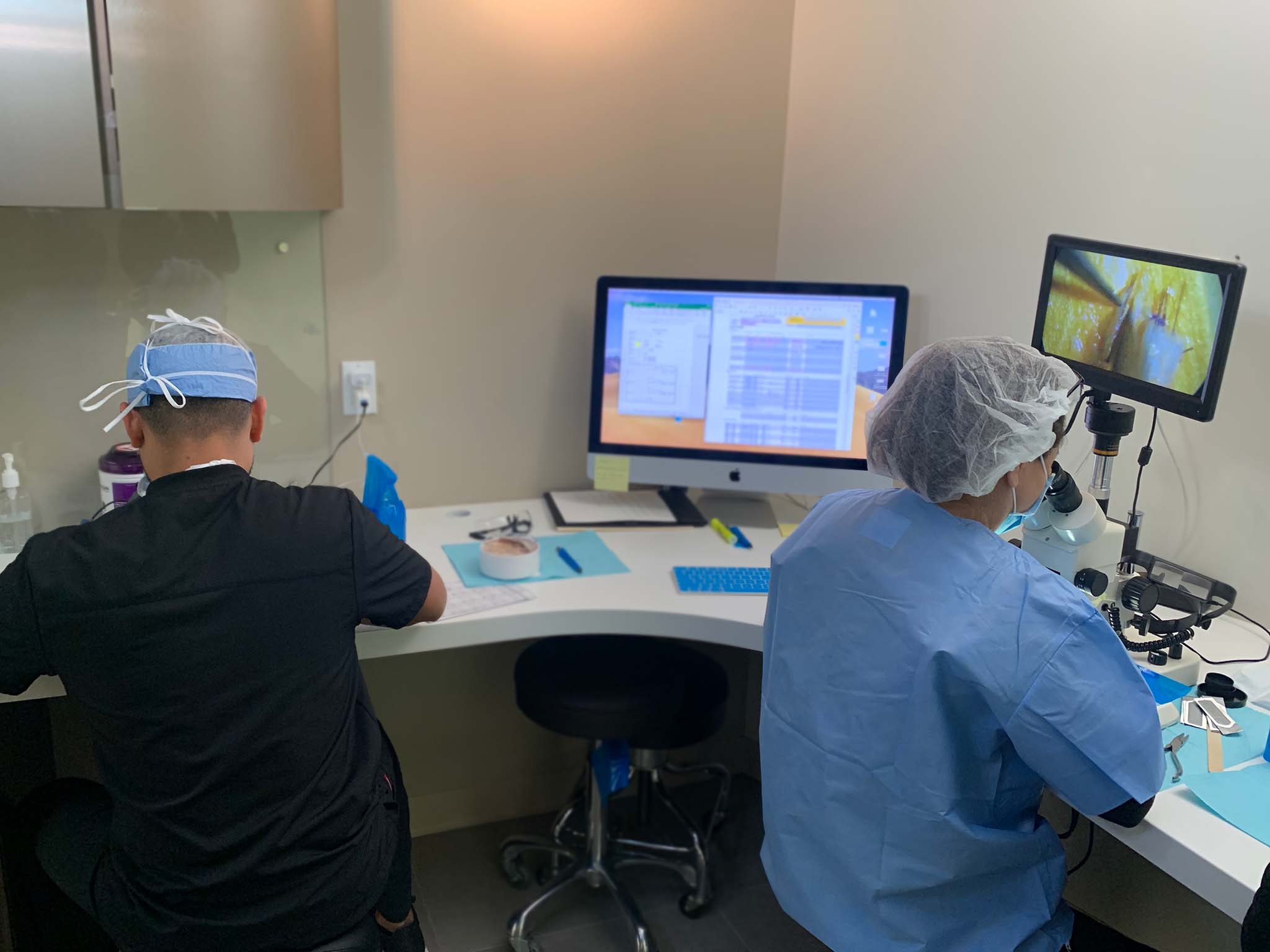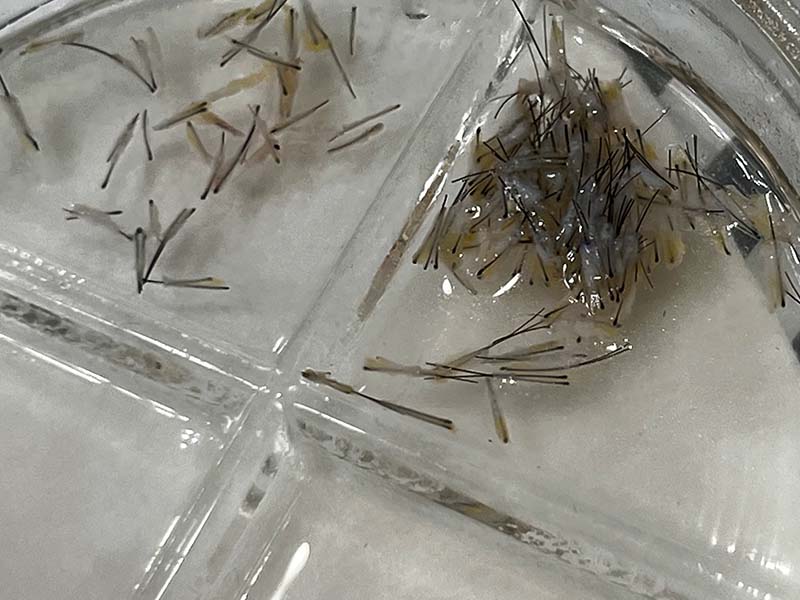 Anatomy of the Surgery
The most important aspect of your hair transplant surgery is how Dr. Pak artistically creates the tiny microscopic incisions where your delicate (quality controlled) hair follicles will be implanted.
This ARTISTIC part of the hair transplant procedure is what sets Dr. Pak apart from other hair restoration doctors. Dr. Pak individually makes these microscopic incisions one at a time in a specific ANGLE, DEPTH, DIRECTION, DISTRIBUTION, and PATTERN to create the most natural looking results.
Pattern
Pattern of the incision is important because you DO NOT want to see any pattern. You want your results to be natural and undetectable. You don't want a straight pattern hairline. You don't want any intentional geometric patterns.
Angle
Angle is important because it is how the hairs will grow. All hairs have a specific angle relative to the body. For example, hairs on your eyebrows exit your skin at a very shallow angle. Hairs on top of your head may have to 30 to 40 degree angle.
Depth
Depth of the incision is important because hair follicles can be quite long or short. If you make the incision too shallow, the hair follicle will stick out. Conversely if the incision is too deep the hair follicle will sink in disappear possibly causing another graft to be placed in the same incision unknowingly leading to a pluggy outcome.
Direction
Direction of hairs is important because all hairs have a direction. Hairs on the sides of your head point down and back. One of the tell tale signs of a bad hair transplant by an inexperienced doctor is to look at the patients temples where their hairs point out (not down). Hairs on the crown of your head point in a swirl.
Distribution
Distribution is important because Dr. Pak needs to make you look your best with only a limited number of hairs to work with. 2000 or 3000 grafts may seem like a lot but in reality it is only a small fraction of a normal hair density when you consider the bald area you are trying to cover probably had 20,000 to 30,000 hairs. To do this, he has to creatively distribute the incisions where it will make the most visible impact.
The Jae Pak MD Medical staff have been trained by Dr. Pak and are the same, consistent staff each week. (We do not subcontract through a staffing company.)
As mentioned above, the medical techs prepare the grafts while Dr. Pak artistically creates tiny pin prick size incisions and determines the direction in which the hairs will be implanted. In many cases he creates 2000-3000 sites for implantation.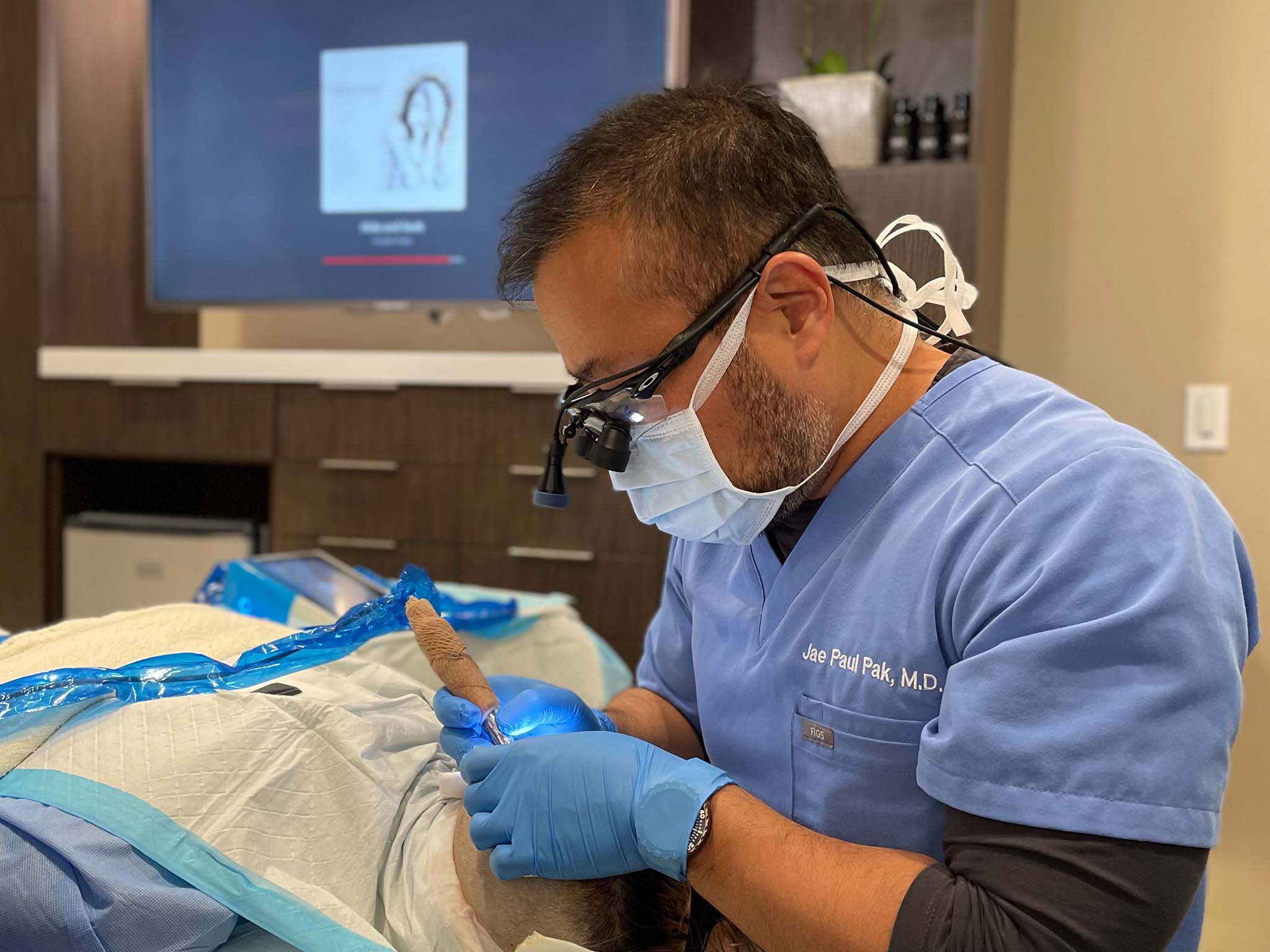 Once he has created all the sites, the medical techs will begin inserting the hair grafts. As with any organs, the hair graft's survival rate is higher if they are returned to the body as soon as possible. The medical technicians assist Dr. Pak in a similar way to nurses assisting doctors in surgery.
Lunch
You will be served a delicious lunch of your choosing from a menu of healthy and tasty options between 11:30am-1pm. We also serve fresh baked cookies as well as ice cream for dessert!
How long does a procedure take?
Most procedures will conclude between 1pm-3pm. For your safety, we ask that you arrange for someone to pick you up from our office or arrange for a car service such as Uber or Lyft.
If you arrange for someone to take you home after your procedure, our staff will call them an hour before so they will have an accurate pick up time.
At the end of your procedure, Dr. Pak and our staff will go over post procedure care and send you home with everything needed including medication. No pharmacy stop necessary!
Day after Procedure
We will ask you to return the next day for a post procedure check up and hair wash that will last approximately 30 minutes. At this time we will take off any bandages and do a thorough wash of your scalp to ensure the donor and recipient areas are clean. We will also review your post procedure care instructions.
Our out of town patients can plan to fly out immediately after their post-op check and hair wash. We schedule these appointments as early as 6am on weekdays and 8am on weekends.
*NO post op check is required the day after Scalp MicroPigmentation.
We recommend taking it easy the first three days after a hair transplant surgery while the donor and recipient areas are healing.
*Scalp MicroPigmentation patients only need to rest the evening after their procedure.
For FUT(STRIP) Surgeries: If staples are used during your FUT surgery, you will want to return to our office or go to your local physician or walk-in clinic to have the staples removed 10-14 days post procedure.
Follow Up Post Procedure
Following a hair transplant surgery, patients can contact our office with questions during the recovery process. After two weeks, hair transplant and SMP patients can resume all activities and products.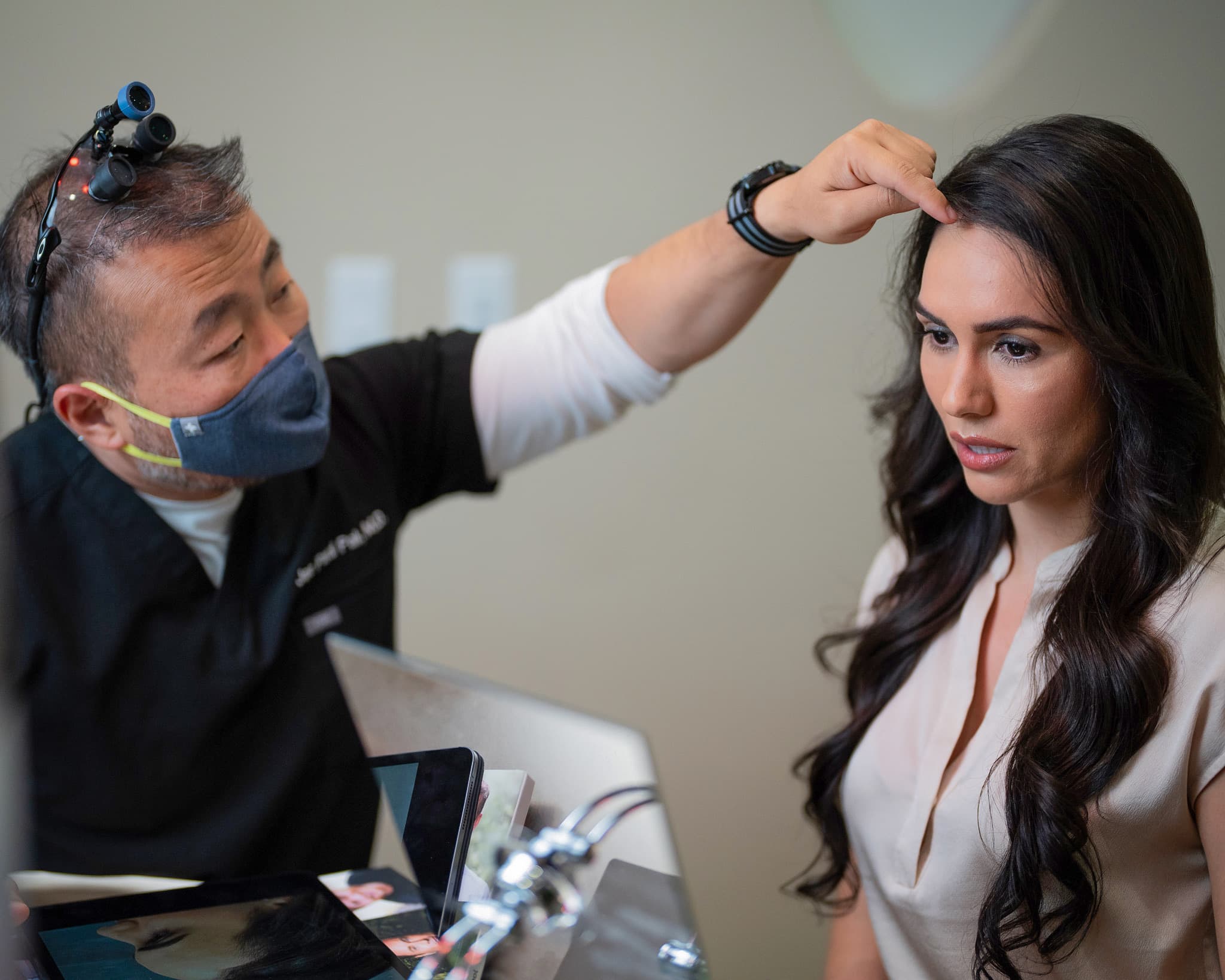 Dr. Pak discussing hairline with actual patient at her 12 month follow up appointment.