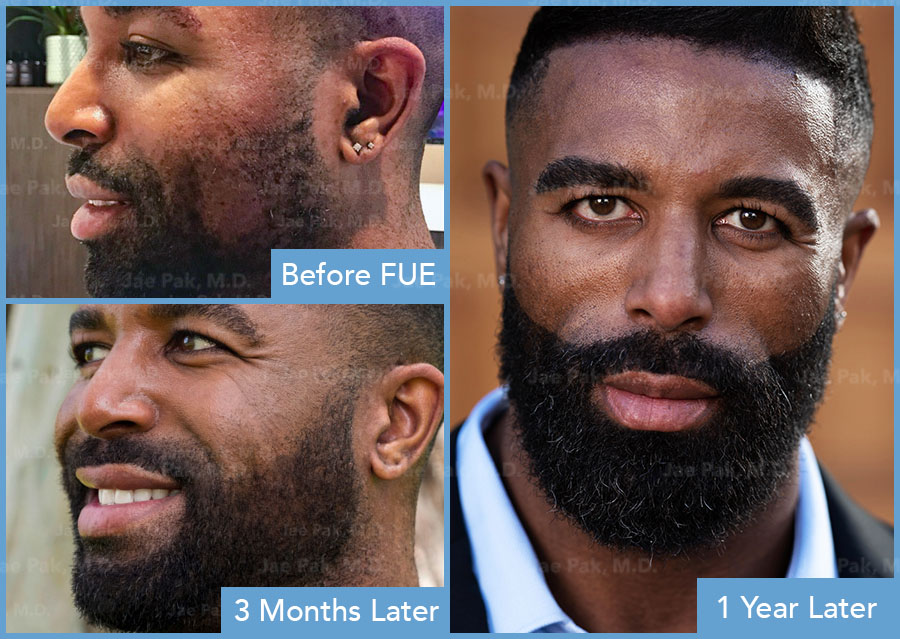 The beard transplant trend isn't just a flash in the pan. This is among the fastest-growing cosmetic procedures on the planet, with widespread support from clinics, celebrities, surgeons, and the public.
Don't mistake beard transplants for a quick or temporary fix — this is a technical and precise procedure that uses real hair from the client's donor area to replenish facial hair in an authentic, natural way.
The power of a great beard transplant is transformative for sure, but how does a procedure like this work out in terms of cost? The price of a certain surgery can be the deciding factor in whether you seek it out for yourself.
Let's examine all the factors determining the cost of a beard transplant and offer some advice to get the best treatment for your money and long-term satisfaction — because here at Jae Pak, MD Medical, we value the patient experience.
What Is the Scope of Surgery?
The key cost factor in a beard transplant is the scope of the surgery itself since there are so many variables at play. Because these procedures are so highly personalized, it's rare to see two beard transplants cost the same amount!
Here is why the scope of a beard transplant is a key consideration when planning out your procedure from a budget standpoint.
How Many Grafts?
In a beard transplant consultation, one of the first things you'll determine with your surgeon is how many grafts are required for your facial hair goals.
Top surgeons leave no ambiguity when it comes to plotting exactly where each graft needs to be implanted onto the patient's face, and this requires precise knowledge of volume, spacing, and more.
As you explore your options with the surgeon during a consult, you'll quickly see how widely these procedures can vary in terms of scope and how cost scales accordingly.
A very small FUE beard transplant may require only two or three hundred grafts to fill in some sparse areas or connect missing gaps in the goatee area. Higher volume transplants can range toward the 1400 graft mark or more, doubling or tripling the overall price.
On the far end of the spectrum, some patients are looking for full beards via transplantation, including several thousand grafts over multiple sessions.
Keep in mind that the look and feel of your available donor hair could also impact the scope of the surgery before you even walk through the clinic's door, and the best surgeons should be transparent with their views to guide you in the right direction.
Dr. Jae Pak, M.D. values realistic expectations and has 15 years of experience and client satisfaction.
Unseen Costs and Recovery
The number of grafts required for a beard transplant help determine labor, materials, support staff needs, and preparatory demands for a clinic, all adding to the total cost.
Just by occupying an operating room, patients can expect to add to their bill based on timing and other factors. Beard transplants are typically only a few hours long, but the length of a procedure is also something to consider when calculating.
The takeaway here is that the surgeon's actual time and labor are just one component of the full procedure. Many other elements must be coordinated, from supplies and gear to other quality-of-life upgrades that could make your experience more comfortable.
Beyond the operation, plan to pay for recovery treatments, hair loss medications, supplements, and more.
How Does Surgeon Skill and Experience Factor In?
Apart from the scope and duration of the surgery, another main factor that determines the cost is the experience and expertise of the surgeon.
With a beard transplant, you're commissioning a surgeon for their technical skills, artistic abilities, and other intangibles that come with hours spent in the operating room.
Here are the attributes that impact how much a surgeon may charge for a beard transplant.
Track Record
This one is simple enough — how many beard transplants has the surgeon performed, and how were the outcomes in terms of client satisfaction and longevity?
Examining the track record of a prospective surgeon is always recommended for cosmetic procedures of any type, especially in a fast-growing market like beard transplants. With the internet at our fingertips, it's easier than ever to find the best in the field, but expect to pay more for those top-tier surgeons with sparkling portfolios.
Results speak for themselves, of course, so the more client testimonials and before & after galleries, the higher the cost of entry could climb. If you see a clinic offering beard transplants for cheap and they don't have much of a presence online, it's a red flag.
Specialization
In your search for a beard transplant surgeon, you'll encounter many practitioners who have only just begun working on facial hair or have limited experience with transplantation.
Since beard transplants are the hot new procedure, you'll need to exercise more caution and possibly spend more on specialized surgeons who have been performing beard transplants for longer. A physician with accolades, inventions, and other contributions to the industry may not only be the most highly qualified, but deliver superior results for your beard.
Once again, specialization is key in cosmetic medicine, especially a procedure that you could wear on your face for years to come.
Dr. Jae Pak, M.D. is one of the most experienced hair transplant specialists and is committed to prioritizing artistry, technology, and patient care so you can enjoy real results that last.