SMP Patient of Jae Pak, M.D.
When researching any type of cosmetic procedure, pictures always outweigh words. While you can read blocks of text and review surveys for particular clinics, nothing is as convincing as the Before & After gallery that shows everything you need to know.
If you're interested in Scalp MicroPigmentation (SMP) treatment to restore the appearance of fuller, denser hair on your head, take the time to browse these galleries before you jump into a consultation or commitment.
Let's talk about the importance of before & after photos when researching clinics and doctors for SMP and discuss how to interpret these photos one by one to help you make an informed decision.
We'll give you the tell-tale signs of an expert SMP procedure – as performed by Dr. Jae Pak – and also point out some major red flags in the industry as a striking contrast!
Why Before & After Galleries Matter for SMP
With SMP, there's no hiding the reality of the situation! Every picture you see is the exact representation of the results from the treatment as it stands on the day of completion – no shadows, comb-overs, or sleight of hand.
By zooming in on pictures from SMP Before & After galleries, keep an eye out for the following:
Authentic, natural-looking hairline along the front of the scalp and temples
Even and balanced distribution of pigment that resembles natural, close-cropped hair
Hair color that contrasts effectively and organically with the color of the skin
Careful blending of pigment and inability to tell where natural hair begins/ends
Full coverage under thin areas of the scalp to create a dense look under long hair
With before & after galleries, you can also note which patient profiles match your own, whether it's categorized by age, gender, ethnicity, hair type, head shape, or other factors that come into play. You want a doctor with a wide range of experience, so look for various case studies to showcase their abilities. When viewing the photo gallery of a doctor, keep in mind that there are some patients that like their hairline extremely straight versus natural, or prefer a darker pigment that the natural color of their hair. You may see really natural looking results mixed with more intense looks of SMP.
Finally, a before & after gallery should give you an array of different patient cases to examine, whether it's covering up a scar from strip surgery, filling in a region of the scalp under thinning hair, or just a standard case of male pattern balding in need of extra coverage.
The best SMP practitioners will allow you to sort their galleries by case type, allowing you to see how they stack up in certain areas and determine if they're competent enough to fulfill your needs as a client.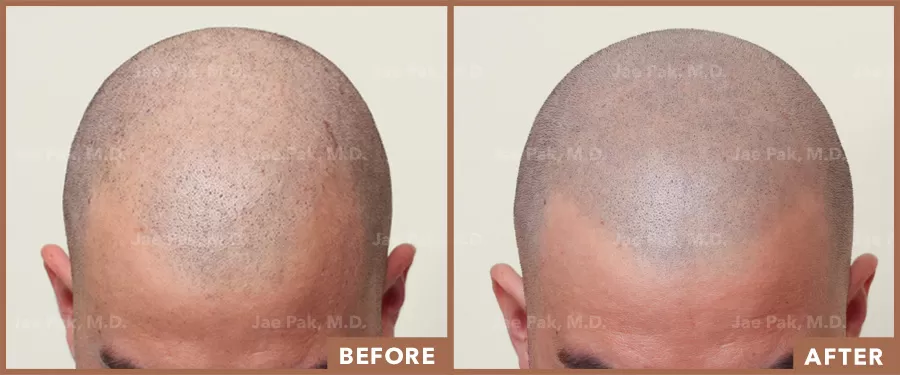 Male Pattern Balding
The most common reason for SMP treatment is traditional male pattern balding due to genetic expression over time. This is the M-shaped pattern of thinning we often see along the hairline and patchy on the vertex, known as the "bald spot."
When assessing the quality of an SMP treatment for male pattern balding, look for the following success factors and be aware of some potential pitfalls:
Areas of the Scalp
The best surgeons in the SMP field divide the scalp into three main sections – hairline, crown, and back. Generally the sides of the scalp do not need SMP, but a fourth area can be added as well. They will charge for SMP services according to the focus on a particular section and generally include two or more sessions in the package deal to ensure complete coverage in the area.
With that said, you'll notice that the front and crown of the scalp are by far the most common areas for SMP treatments, given that the majority of male pattern balding cases impact these regions.
You'll be able to determine the area of focus based on the angle of the photograph in the before & after gallery, and some photo series will include markings from surgical pens to indicate the intended placement of pigment to create a natural-looking hairline.
This is not just a matter of drawing a horizontal line across the forehead and filling in the dots like a kindergarten coloring book! Extreme precision and care is required to craft an aesthetic hairline and make it look as natural as possible.
Color, Shade, and Density
The shape of the hairline is just one element of an effective SMP treatment. The color and condition of the pigment matter as it can make or break the appearance of the scalp with just a few minor visual adjustments.
To the untrained eye, it may seem like all close-cropped hair is the same color, but the truth is far more involved and complex. Top-tier surgeons will do a microscopic assessment of the quality of the hair and mix a proprietary blend of ink-based on their findings.
The key is to make the hair look natural and convincing when close and personal, not just from afar. That means the proper placement and spacing of pigmentation in the right areas of the scalp, at the appropriate size, with the correct color, shade, and angle.
As you can tell, there is much more to SMP than meets the eye!
Female Hair Thinning
More women are considering SMP as a semi-permanent method of adding visual density to the scalp, allowing them to style their hair with more confidence and avoid a "sparse" appearance when swimming or showering.
This is the most common region for hair thinning in female patients and can result from strain on the hair over time or simply a mix of hormonal and environmental factors.
Luckily, women can see quick turnarounds in hair density and regrowth by stacking natural supplements and taking topical treatments like Rogaine.
Still, a single, short session of SMP on the center "part" of the hair can work wonders for creating a more dense, complete look along the scalp as women navigate their hair restoration journey.
Photo galleries for female SMP patients can show dramatic results, and many report high satisfaction levels with their treatments.
Keep in mind that the color and placement of the pigmentation is extremely important when looking at these photo galleries. Women typically wear their hair long and any contrast in color on the scalp will be immediately noticeable if not properly formulated.
Also, many SMP centers will not feature female case studies on photo galleries yet still offer their services to women – a definite red flag.
Since SMP is generally marketed towards men in its current stage, women may need to do more research to find a clinic specializing in SMP for their hair type and desired outcomes.
Scarring
SMP has proven highly effective for covering up scars on the head, whether they result from a FUT strip procedure, another type of surgery, or trauma to the skull. SMP has also provided satisfactory results for victims of skin conditions, burns, autoimmune diseases, and other cases where traditional hair transplant is not a viable resolution.
The main challenges of SMP for scar coverage are the sensitivity of the area, the precision required for natural-looking results, and the possibility of skin in the area loosening, tightening, or changing shape over time.
The world's best SMP surgeons are experienced with a wide array of scarring cases, running the spectrum of different sizes, shapes, and causes. During the consultation, clients should be assured that the scar will be fully covered without any side effects, discomfort, or other risks.
For this reason, clients seeking SMP to camouflage scars should stick with highly trusted professionals in the field, particularly those who know the properties and characteristics of scars from hair restoration surgeries like FUT and FUE.
In fact, many doctors will offerSMP as a follow-up treatment after the final results of a hair transplant have been revealed. This can allow patients to wear close-cropped hairstyles on the back of the head without concerns of scar exposure.
Create a Complete SMP Game Plan
You've seen it with your own eyes – SMP can truly be a life-changing treatment when you trust the right people for the job.
Men can achieve that smooth and sharp close-shaved look, while women can finally fill in those bothersome gaps that result from thinning on the vertex and center part of the hair. SMP can even make strip-surgery scars barely noticeable, helping to restore confidence in your appearance from every angle.
If you're ready to take the first step on your path towards SMP or another type of hair loss treatment, it just takes one call. Set up a consultation over the phone with Dr. Jae Pak today and set the wheels in motion for a complete hair restoration strategy.
Sources:
Combining SMP and Hair Transplantation | ISHRS Forum