Actual Patient of Jae Pak, M.D.
Hair restoration treatments have come a long way since the "hair plug" surgeries of the 1960s. That's good news for modern patients, who have plenty of options to restore the appearance of their natural hair with a wide array of techniques.
But some of the most popular modern treatments have little to do with real hair. Instead, they aim to recreate an organic look of close-cropped hair by utilizing a high-precision tattoo design on the scalp.
Yes, there have been thousands of successful hair tattoos performed in just a few years since the procedure went mainstream, and more men are enjoying the results of this transformative treatment each day.
What exactly is a hair tattoo, and what are the pros and cons you should consider as you research the procedure for yourself? How do you know if you're a good candidate, and what are some of the common pitfalls you'll want to avoid along the way?
In today's article, we'll address all these points, plus cost, consultation, and much more. Let's begin.
Hair Tattoo Basics
A hair tattoo is slightly more complicated than you might imagine. You don't want to walk into any streetside tattoo shop and ask for this type of treatment as a hair tattoo or Scalp MicroPigmentation, is performed on a different dermal layer than a regular tattoo!
Here are some basics you should know about hair tattoos and some key terminology before you do any further investigation.
Hair Tattoo vs. SMP
In researching hair tattoos, you'll hear a few different terms thrown around by clinics, surgeons, and other voices in the industry.
The term "hair tattoo" is the broadest, implying that an average tattoo artist can perform the procedure as they would any tattoo out of the design book.
More specifically, patients should narrow their search for practitioners who perform Scalp MicroPigmentation, or SMP, with stricter parameters and quality controls.
The distinction here is that SMP is a technical, non-surgical tattooing process involving customized designs, colors, shading, and other artistic elements that create a natural, authentic look of short-cut hair on the scalp.
We'll get more into the do's and don't of SMP later on, but for now, we simply advise you to avoid any service that offers general "hair tattoo" treatments rather than SMP.
Keep in mind that because this treatment is still somewhat new, different companies and clinics may use creative names and marketing techniques to set themselves apart.
"Hair follicle replication" or "cosmetic transdermal hair replication" might show up in your search engine as you research the procedure.
Don't fall for gimmicks and ensure you're getting the best possible service for your investment, especially as SMP gains traction across the industry.
SMP Technology?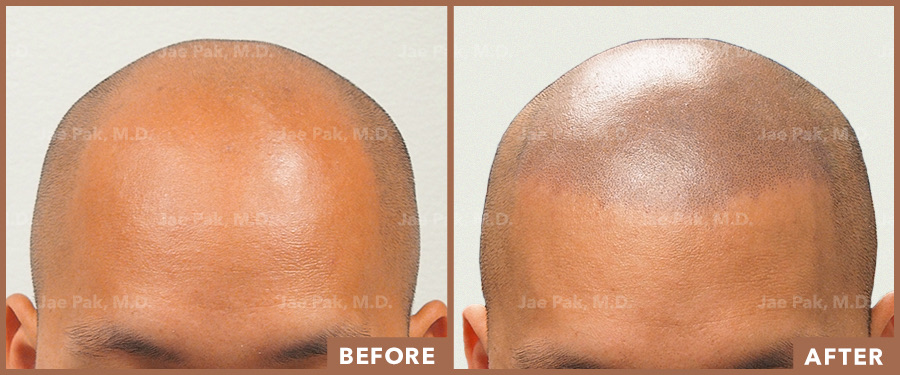 The difference between a hair tattoo and genuine SMP is more than skin deep!
While traditional tattoos use heavy gauge needles to inject ink deep into the skin, SMP needles are designed with a much thinner profile and only penetrate the top layer of skin.
More interesting is the fact that top SMP clinics do not use perfectly round needles to administer the "dots" that cover the scalp during the procedure. That's because organic hairs tend to have an irregular, jagged shape when examined under a microscope.
Authenticity is everything!
Finally, colors are very important when undergoing SMP because even close-cut hairstyles reveal the natural color of the follicles and have a distinctive look in a certain light.
SMP professionals will, therefore, often mix custom colors from hundreds of different ink combinations to create the perfect shade for each client. That's how the best SMP procedures are performed, with nothing left to chance.
Best Candidates for SMP
Few medical limitations might keep someone from getting SMP treatment. In fact, it's the go-to choice for patients who suffer from conditions like alopecia areata, which causes unpredictable patches of hair to fall from the scalp.
Of course, SMP clients must commit 100% to the buzz-cut look if they want to maximize their SMP aesthetics since irregular hair growth on top of the ink is not desirable.
As long as a client is willing to live with the buzzed style and has no objections to occasional maintenance, SMP is a great option.
SMP is also common for patients who wish to camouflage the linear scar from FUT strip surgery or patchwork scarring from FUE hair transplant.
Hair Tattoo Advantages
Now that we've covered some hair tattoos and SMP basics — let's talk about the major advantages of this treatment and why it's more popular than ever.
Permanent Results
On the spectrum of hair restoration treatments, SMP is remarkably low maintenance and easy to deal with on a daily basis, especially for patients with minimal natural hair growth on the scalp.
In this sense, SMP is one of the few hair loss treatments that are permanent in the truest sense of the word. The total removal of anxiety or stress regarding hair loss is a huge part of the appeal for many patients.
Streamlined Process
The actual process of receiving an SMP or a hair tattoo is a relatively fast and painless experience.Patients should only select a clinic supervised by a doctor that uses local anesthesia.
The process begins with a consultation between the client and the doctor. They will set expectations for the shape of the hairline, the amount of coverage, and other aesthetic features that will determine the outcome of the procedure.
On the day of the initial treatment, the doctor and technician will do a first pass with light pigments and set the boundaries of the design for future reference. Patients report no or mild discomfort during the process, due to use of a local anesthetic. After a few days of recovery with minor scabbing and soreness the client will resume all normal activities. The client will return for a second session approximately two to three weeks later, where the doctor and medical technician will apply darker layers of pigment and finalize the design.
Reputable clinics will recommend a third session to ensure the pigment is dark enough and long lasting.
The results are official within less than a week or two, and the client is ready to go!
Reasonable Cost
In most cases, SMP treatments are more affordable than hair transplants. Some technicians charge for SMP by section of the scalp, while others have a price structure based on time spent. Be sure to clarify pricing during the consultation process and account for all possible costs.
Hair Tattoo Downsides
What are the cons of a hair tattoo, and what can be done to avoid them?
Recurring Treatment
Even the best SMP treatments are prone to fading over time due to numerous natural and environmental factors.
The body naturally breaks down ink in the skin, and the addition of sun, lotions, sweat, and steam can accelerate fading over time, too.
SMP patients may want to return for touch-up treatments every few years to keep things looking fresh, but this isn't always necessary.
Common Pitfalls
We touched on some SMP mistakes earlier, but here are some reminders for those looking for that perfect hair tattoo.
The biggest rule of SMP is to avoid inexperienced clinics and practitioners and steer clear of any facilities without the proper hygienic practices. Also, take the time to research SMP doctors and technicians with glowing client testimonials, medical certifications, and plenty of before & after pictures online.
Hair tattooing is still very much in its "wild west" phase, so stick to the trusted professionals instead of branching out into the unknown. Even if it means spending a bit more, it's worth knowing you're in good hands for a treatment like this.
Is a Hair Tattoo Right for You?
Hair tattoos, SMP, Scalp MicroPigmentation, transdermal hair replication – this procedure goes by many names but can deliver transformative, positive results when done correctly.
We hope this list of pros, cons, and considerations will help you navigate the SMP market and find a service that suits your needs.
Remember, experience and professionalism should be your top priorities when choosing an SMP technician, so schedule a consultation with a trusted hair restoration doctor to get the results you deserve.
Sources:
Scalp Micropigmentation | NCBI
Scalp micro pigmentation: a useful treatment for hair loss | NCBI
Shaved hairstyle scalp medical tattooing technique for treatment of advanced male pattern baldness patients | NCBI