Actual Patient of Jae Pak MD Medical
Mere decades ago, men and women who suffered from hair loss had few choices to slow or reverse the trend of thinning hair on the scalp. This had been the norm for thousands of years, as little progress was made in the field of hair restoration.
Only recently have treatments become abundant and more affordable than ever, ushering in a golden era of hair loss technology and medicine. Even natural treatments are seeing a resurgence as the internet showcases DIY and holistic health practices.
The big question remains among all the excitement: What is the single most effective hair loss treatment available in 2022? Is there a definitive answer, or should you still embrace a trial-and-error approach to the process?
The truth is that no perfect hair loss treatment exists for everyone, but we have narrowed down best practices to a shortlist of great options for modern hair loss patients.
Let's begin with natural hair loss treatments to try at first, then advance into the territory of supplements, medicines, non-invasive therapies, and surgical procedures. This should serve as a road map to begin your hair loss journey on the right foot! Let's go.
Best Natural Hair Loss Treatments
Effective hair loss treatment doesn't have to be complicated, expensive, or high-maintenance.
Start by addressing the basics, improving your lifestyle and general health so that you can combat the factors that accelerate hair loss, such as stress, hormone disruption, poor circulation, and nutritional deficiencies.
Exercise and Sleep
If you aren't exercising for at least 20 minutes daily, you're doing your hair a disservice over time. Exercise has numerous benefits for the hair, including better hormone balance, improved blood flow to the scalp, fresh nutrients and oxygen uptake, and reducing stress and cortisol.
Restorative sleep is also crucial for thousands of functions in the body, including healthy cycles of hair growth and longevity.
Nutrition For Strong Hair
A smart balance of protein, fat, and complex carbs is shown to be best for healthy hair. One more reason to avoid junk food and sweets!
Many natural health practitioners advocate fresh fruit for hair health, so load up your cart with bananas, mangos, and plenty of citrus from the produce section.
Even if your diet doesn't immediately impact various types of hair loss reversal, optimizing your nutrition is one of the best things you can do for your body and mind overall.
Supplements and Natural Remedies
If your lifestyle and diet are on point, consider trying some supplements and natural treatments before you spring for the prescription meds or more drastic measures.
Despite our best efforts to optimize nutrition with food, supplementation can go a long way.
Biotin and collagen are the two most studied compounds that benefit skin, hair, and nails, and a daily multivitamin is also recommended.
There is also a wide array of natural plant compounds in essential oils, hair follicle growth shampoos, and other organic products that could yield great results.
In terms of pure effectiveness, natural methods may not be immediate or guaranteed, but they're worth a look to get started.
Best Hair Loss Medicine
Supported by clinical trials and approved by doctors worldwide, the following medications are designed to get quicker results with higher rates of success.
These medicines are commonly found over the counter or online but always consult your general physician or hair loss doctor before beginning a new regimen.
Minoxidil
The topical solution known as Rogaine has been the top-selling hair loss drug for decades, with plenty of research to support its efficacy, plus FDA approval.
Minoxidil works as a vasodilator, meaning the active ingredients stimulate blood flow on the entire scalp and promote new hair regrowth in the targeted area rather quickly. Results may appear as soon as three months, but stopping use will likely mean a rapid reversal of progress.
This medication must be applied twice daily and is more of a time commitment than other treatments, but the tradeoff is worthwhile for many patients.
Finasteride
The only other FDA-approved hair loss drug is Finasteride, which is far easier to take with a once-a-day pill.
This drug is designed to interfere with DHT, a byproduct of the male hormone testosterone, the main culprit of male pattern baldness and female pattern hair loss.
Studies show that Finasteride can drastically reduce the cause of hair loss on the scalp and even reverse this trend by rejuvenating dormant follicles.
Like Minoxidil, however, gains from Finasteride will likely disappear as soon as the patient stops taking the drug.
Therapeutic Methods
The advantage of therapeutic treatments is a non-invasive approach to hair restoration and the gradual improvement of hair health.
On the other hand, these therapies must be ongoing and can add up costs to achieve long-term results. Here are a few effective treatments in this category.
Collagen Induction Therapy (Microchanneling)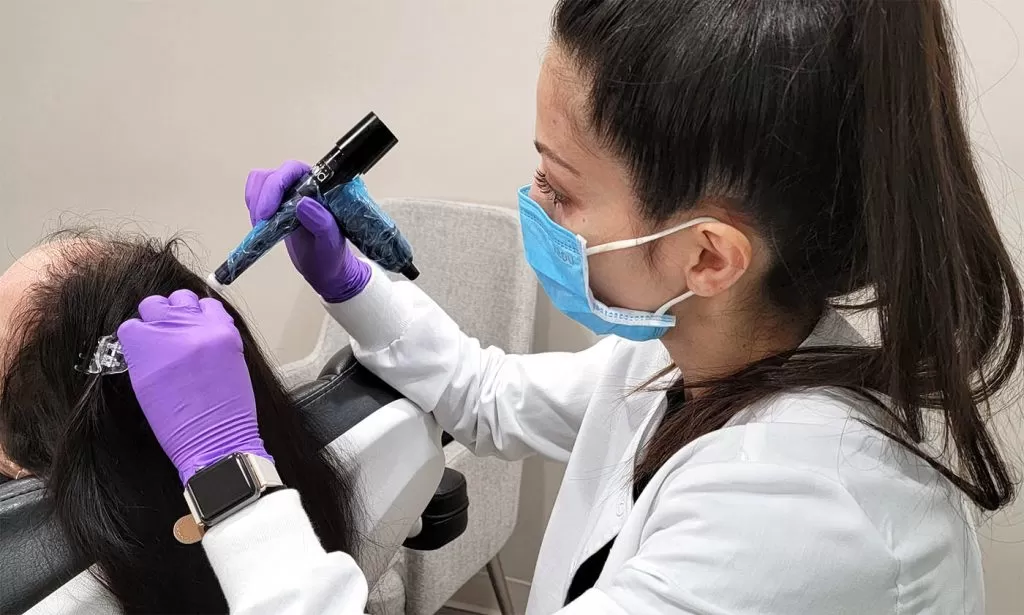 This relatively new treatment uses small needles to create tiny punctures in the scalp with an implement such as a derma-roller or mini-stamp.
The skin reacts to these small pinpricks by ramping up collagen production in the area and generating growth hormone and other positive forms of an immune response.
When applied to the scalp, treatments like microchanneling and microneedling have been shown to improve skin quality and promote healthy hair growth.
Platelet-Rich Plasma Therapy
Not to be confused with stem cell therapy, PRP treatments use protein-rich platelets from the patient's own blood to promote the healing of the skin, tissue, and even bone.
These treatments are relatively costly and typically reserved for sports injuries but have recently begun to gain popularity in hair restoration.
If you're interested in alternative therapies for hair growth and not concerned about cost, PRP may be worth a closer look.
Low-Level Laser Therapy (Red Light) for Hair
Researchers have long studied the effects of low-level laser therapy for its effects on various systems of the body, including vital organs, skin, hair, tendons, and more.
While most research so far has focused on swelling and discomfort relief, LLLT has shown promise for reducing wrinkles, healing scars, regenerating healthy tissue, and even promoting hair growth on the scalp.
Permanent Hair Restoration Procedures
By far, the most permanent and effective treatment for hair restoration is follicle transplant, a technique that has come a long way since its introduction in the 1950s.
These are the only procedures that use the patient's real hair to add density and coverage to the scalp. We'll also discuss the rising popularity of "hair tattoos" known as Scalp MicroPigmentation.
Strip Surgery Hair Transplant (FUT)
In this procedure, surgeons extract a linear strip of hair-bearing skin from the back of the patient's scalp, known as the donor area.
This strip will contain thousands of healthy follicle units, which technicians will then dissect before the surgeon implanting them into the target area of the hairline or crown.
FUT is best for large "mega sessions" with thousands of hairs, allowing for maximum coverage.
FUE Hair Transplant
The key advancement in FUE is the harvesting process, whereby surgeons can select individual groups of follicles for excision. This eliminates the need for a linear strip of donor hair and results in only tiny pinprick size scars on the back of the head.
One major side effect of FUE is a lower yield of strong hair, a longer surgery time, and higher cost.
Scalp MicroPigmentation
Some permanent hair loss treatments work as an optical illusion rather than medicine or transplant. This is the concept behind SMP, a precise hair tattoo design on the scalp meant to resemble a close-cropped buzz cut.
SMP tends to be more cost-effective than transplants, and results can last up to a decade before touch-ups or revisions are needed.
SMP may also be used to cover up scars on the back of the patient's head following hair transplant surgery or camouflage hair thinning for female clients.
The Most Effective Treatment Program is Personal
Genetic hair loss is common as ever in the 21st century, but major leaps in technology and science have given patients plenty of options when it comes to treatment.
We've mapped out a range of individual treatment methods for men and women alike, but as any hair restoration specialist will tell you, a personalized strategy is always best.
That means working one-on-one with a trusted doctor with years of experience in the hair loss field, along with expertise in medicine, surgery, natural remedies, and experimental therapies.
Everyone has unique biology, hair loss patterns like male-pattern hair loss, medical needs, and personal goals for hair restoration. It has to be a team effort to address all of these factors and truly receive the most effective treatment possible!
Schedule a consultation with a top hair loss doctor today and take that initial step in the right direction.
Sources: